This page was last updated: March 6, 2013
London Vintage Radio Club

L.V.R.C.  London,  Ontario,  Canada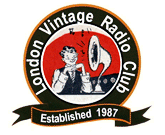 Welcome to the home page of the London Vintage Radio Club, located in London, Ontario, Canada.

The club was formed in 1987 by a small group of radio and phonograph collectors who found a need for a common meeting ground and a means of communication for those individuals interested in the collecting, history and restoration of early radio equipment. Club membership has grown to 150 individuals, and the club will celebrate its 20th anniversary in April 2007.

L.V.R.C. publishes a newsletter, the 'Loudspeaker', six times annually. Club meetings are held in the months of January, March, May, and November. A program is presented at each meeting along with a silent auction and a contest.  A local 'mini fleamarket' is held in London in June, and the annual club fleamarket is held in September, usually in Guelph, Ontario. New members are always welcome.

Please look through the various links on the web site and be sure to sign the guest book before leaving. Suggestions, comments and notification of any broken links are welcome, and should be addressed to the
webmaster
.
"Preserving Yesterday's Memories for Tomorrow"